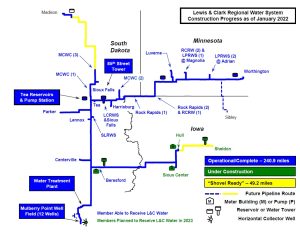 Tea, SD — Progress continues on the pipeline to bring Missouri River aquifer water to northwest Iowa communities.
The Lewis & Clark Regional Water System is already serving several South Dakota and Minnesota systems, and two Iowa connections, both for Rock Rapids (whose water system sells water to Lyon & Sioux Rural Water as well). But the communities of Sheldon, Sibley, Hull, and Sioux Center are still not receiving water. On the upside, funding seems to be coming in at an appropriate pace to complete the project within the next few years.
We talked to Troy Larson, the Executive Director of Lewis & Clark, and he gives us an update.
https://kiwaradio.com/wp-content/uploads/Larson20220107a.mp3
[1]
The pipeline that will serve Sheldon will come from Hull. The pipeline from Sioux Center to Hull has been in use for several years to sell Sioux Center water to Hull. And the line to Sioux Center from Beresford has been completed too, says Larson, but the towns do not yet have Lewis & Clark water.
https://kiwaradio.com/wp-content/uploads/Larson20220107b.mp3
[2]
The last community to be connected in our area will be Sibley. Larson says Sibley will get its water from the Minnesota pipeline, which will come down from Worthington.
https://kiwaradio.com/wp-content/uploads/Larson20220107c.mp3
[3]
There is still some work that needs to be done in South Dakota as well for the Madison line, according to Larson.