September 14, 2021 - 3:42 pm - Posted in
News
Northwest Iowa — The City of Sheldon and its Chamber and Development Corporation, Cooperative Farmers Elevator (CFE) and the Northwest Iowa Manufacturing Sector Partnership were recognized at the 11th Annual Northwest Iowa Development (NWID) Partner Meeting at the Hawarden Community Center in Hawarden late last week.
The City of Sheldon and Sheldon Chamber of Commerce and Development Corporation were recognized by Northwest Iowa Development with the Beyond Expectations Economic Development Support Award for its Comeback Cash program to stimulate the local community economy during the height of the COVID-19 pandemic in 2020.
Retired NCC President Alethea Stubbe was recognized for her 30-year career at the college, 10-years as the college's president and her support of regional economic development.
Receiving the Kirk Grau Business or Organization Innovation Award was Cooperative Farmers Elevator of Ocheyedan. CFE completed a new feed mill project using state-of-the-art technology to increase tons manufacturer and produce a higher, more consistent quality product.
The second Kirk Grau Business or Organization Innovation Award was presented to the Northwest Iowa Manufacturing Sector Partnership, an organization focused on workforce. This unique partnership between 22 regional manufacturers, NCC and NWID is focused on promoting manufacturing careers in northwest Iowa and works with a Career Coach to build relationships with local school districts.
Image: Kiana Johnson presents Sheldon & SCDC recognition for "Comeback Cash promotion. Pictured, left to right, are: (front row) Kiana Johnson, Sheldon Mayor Greg Geels, SCDC's Shantel Oostra. (Back row) Mark Brown, Justin Jonas, Trevor Gottula, Sheldon Economic Development Director Curt Strouth.
CFE Award recipients Steve Peterson and Rob Jacobs with presenter Dennis Dokter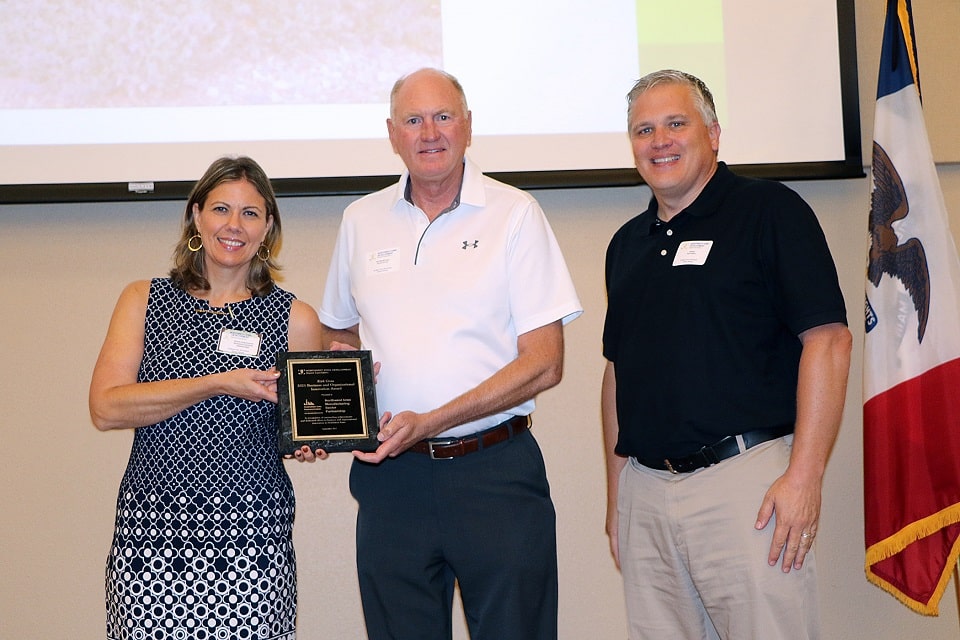 MFG Sector Partnership Award: Stephanie Neppl presenting to Don Van Den Top & Chuck Sjogren
This entry was posted on Tuesday, September 14th, 2021 at 3:42 pm and is filed under News. You can follow any responses to this entry through the RSS 2.0 feed. Both comments and pings are currently closed.