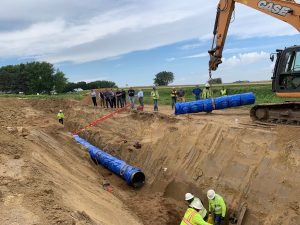 Tea, South Dakota — Pending the final allocation decision by the Bureau of Reclamation, the Lewis & Clark Regional Water System will have nearly enough funding to not only finish the entire project but also pay back the states that assisted them with federal funding advances when the federal funding wasn't keeping pace.
The Lewis & Clark system has been trying since the late 1980s to move Missouri River aquifer water to communities in the tri-state area where it can be used to help spur economic development.
According to Lewis & Clark Executive Director Troy Larson, the system will likely secure more than $130 million from the recently passed Bipartisan Infrastructure and Jobs Act to accelerate construction and put the project on the cusp of being able to deliver 45 million gallons a day to its 20 member cities and rural water systems.
https://kiwaradio.com/wp-content/uploads/Larson20211130a.mp3
[1]
Communities not yet connected include Hull, Sheldon, Sibley, and Sioux Center, as well as Madison, SD.
Chairman Murray Hulstein of Sioux Center says that having everyone connected will have a positive impact on water rates for all 20 members. He says the infrastructure bill is a huge boost for construction efforts and will, "have an immense impact on improving the quality of life and expanding economic development opportunities in northwest Iowa and the rest of the tri-state region."