January 24, 2022 - 4:18 pm - Posted in
News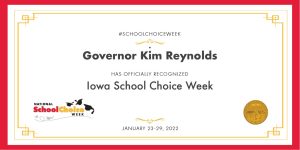 Des Moines, Iowa — This is National School Choice Week in the United States.
We talked to Trish Wilger, who is the executive director with Iowa Alliance For Choice in Education. She tells us they have a special message for Iowans.
In northwest Iowa, we tend to think of "school choice" as being support of Christian and Catholic schools. But Wilger says they have more of an "all of the above" point of view.
She says there are two distinct organizations, and she outlines their purposes.
Wilger tells us Iowa Alliance will be sponsoring a School Choice Breakfast for legislators this week at the Capitol.
She says they support education savings accounts, which are different from vouchers. She says vouchers are a direct payment to a specific school or family, where the state funding would go into an account for qualified education expenses under an education savings account or ESA.
For more information on National School Choice Week, which runs from now through Saturday, January 29th, you can visit schoolchoiceweek.com.
This entry was posted on Monday, January 24th, 2022 at 4:18 pm and is filed under News. You can follow any responses to this entry through the RSS 2.0 feed. Both comments and pings are currently closed.